Cruising the North Channel
Ontario, Canada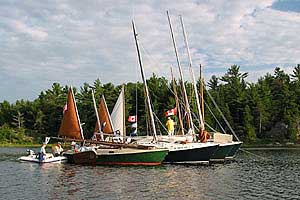 Shallow Water Sailors
23rd Annual Magnum Opus Cruise


---
North Channel Cruise Information . . .
Spanish Marina Info
Directions to the marina and Canadian travel info.
Charts
Cruising Guides
Area History
Useful Links

Questions and reporting broken links.
---

The Shallow Water Sailors launched from the Spanish Municipal Marina for the 2002 Magnum Opus cruise.

Spanish Municipal Marina
P.O. Box 70
40 Garnier Road
Spanish, ON P0P 2A0 CANADA

Coordinates: 46 11.06 N , 82 21.30 W

Phone: 705-844-1077, Fax: 705-844-1078

back to top
---

Spanish is located on Highway 17, 75 miles (120 km) west of Sudbury.

Information about entering Canada.

Canadian travel information and maps.
800-668-2746

back to top
---

Charts . . .
The following has not been updated since 2002.

2259 John Island to Blind River,
2257 Clapperton Island to John Island,
and either 2286 Georgian Bay to Clapperton Island
or 2207 Little Current to Clapperton Island.

A little explanation about the last two charts might help you decide which to buy or you could get both (Canadian charts are a bargain at around $13.50USD for chart 2286). Chart 2286 Georgian Bay to Clapperton Island is based on the survey done in 1822 (updated in 1892!), this is a full size chart and is of some historical interest as it retains much of the drawing done for the original survey. A new survey has finally been done and the result is the brand new chart, 2207 Little Current to Clapperton Island, this provides much more detail and is more of a strip chart format (similar to the new McGregor Bay chart that we used two years ago).

Charts are often out of stock so order early. If you wait until you're up there you run the risk of not finding what you need. Charts can be ordered from your local chart dealer, however, the easiest way and also the best buy is to order them from Canada. The prices run $20 to $28 Canadian and the US Dollar is currently worth $1.50 Canadian.

Here are some good chart sources . . .

The Nautical Mind
Marine Booksellers and Chart Agents
249 Queen's Quay West
Toronto, Ontario M5J 2N5 Canada
800-463-9951

Federal Publications Inc.
165 University Avenue
Toronto, Ontario M5H 3B8 Canada
888-433-3782
https://www.facebook.com/FederalPublications/info

back to top
---
Cruising guides, two worthy of note . . .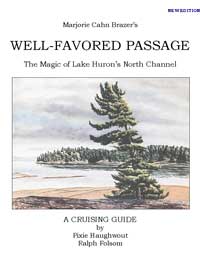 Well-Favored Passage, 4th ed., 2002
Haughwout, Pixie & Ralph Folsom

Marjorie Cahn Brazer's classic guide to the North Channel area of Lake Huron has been updated and expanded by two long-time cruisers who share her love of boats and books. Includes an overview of the area's geology and history, vivid scenic description, directions for reaching villages and harbors, navigational advice, marine facilities, restaurants, and farmers' markets.

Order direct for the best price:
E-mail pixieh@mymailstation.com, or call 619-222-7074, $42.50 plus $5.25 US shipping (US Dollars in 2007).

Check for used copies: Marjorie Cahn Brazer's well-favored passage: The magic of Lake Huron's North Channel


Used copies of Marjorie Cahn Brazer's original classic are often available. These are great reads for local history of the area.
3rd ed., 1987 - Well-Favored Passage: A Guide to Lake Huron's North Channel

Rev. ed., 1982 - Well Favored Passage: A Guide to Lake Huron's North Channel

1975 ed, - Well-favoured passage: Exploring the waters, land, and history of Lake Huron's North Channel


Georgian Bay cruisers may also be interested in Marjorie Cahn Brazer's The Sweet Water Sea: A Guide to Lake Huron's Georgian Bay



PORTS Cruising Guide: Georgian Bay, The North Channel & Lake Huron
Manley, Steve & Ann Vanderhoof
Full details on marinas, facilities, and anchorages. Color aerial photos of most islands and harbors.
$34.95 CAN (about $23 US, 2002 price) Available from the chart dealers listed above.

back to top
---

Other books about the area . . .

Want to know more about the area's history? Try This site, they have fantastic books about the Great Lakes.
www.lynximages.com

In particular look at this book: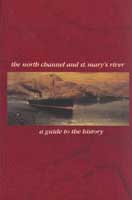 The North Channel and St. Mary's River, A Guide to the History
Andrea Gutsche, Barbara Chisholm, Russell Floren
www.lynximages.com/normainone.htm

Check for used copies: The North Channel and St. Mary's River: A guide to the History


back to top
---
Useful Links . . .

Canadian Boating Links